Ok, I haven't just been slacking off for the last 10 days. I was in Kansas visiting my mom and doing some dedicated Costco research. My mom and I visited 2 of the 4 different Costco locations by her:
| | |
| --- | --- |
| Lenexa 9350 Marshall Drive Lenexa, Kansas 66215 | Overland Park 12221 Blue Valley Parkway Overland Park, Kansas 66213 |
We both agree that the Lenexa store is small and no where near as nice as the Overland Park store, which seems newer (but is only 1 year newer actually). I think the big issue with the Lenexa store is that it is so small they just don't have the room to have as much of a selection. But they both have all the basics – pharmacy, gas, optical, photo processing, and the ever important bakery.
So, the first day I was there we went to the store in Lenexa to get some fresh fruit and vegetables, as well as some things from the freezer section. We picked up the usual players in my list of Costco buys – milk, eggs, blackberries, and asparagus. According to my mom, these are all much cheaper than her grocery stores. The only strange thing to me is that you have to buy two cartons of 18 eggs – so a total of 3 dozen eggs. It's odd to me because we can buy a single 18 egg carton at my Costco. Luckily, my mom likes her eggs!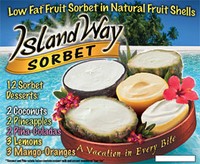 Island Way Sorbet – One of the neatest things we got was a box of sorbets that are so adorable…the sorbet is in little real fruit cups. The box you can get at Costco (and we do have the same thing in Austin) has 12 sorbets – 3 Mango Orange, 3 Lemon, 2 Coconut, 2 Pineapple, 2 Pina Colada. They come in mangos, oranges, lemons, coconuts, and pineapples appropriate for the flavor. Not only are they cute but they are yummy as well. They were a big hit at our scrap booking party. 12 sorbets for $12.99.
HP 5610 all-in-one printer, fax, scanner, and copier – We decided to go to Overland Park's Costco to get my mom a new printer and some printer supplies. I think we got a really good deal on an HP all-in-one printer, fax, scanner, and copier. It's a nice little printer that will work for her to color print anything she needs, including pictures. Plus she can make copies at home which we can take full-advantage of immediately for recipe sharing. And it was only $89.99! We also got a really good deal on plain printer paper (1500 sheets for $10.49) and some 4″x6″ photo paper (300 sheets for $13.69). So, she's all ready to start using her new printer!
Brother P-Touch 1000 – My mom and I have both always wanted one of these labeling machines, just like Martha Stewart always uses. At Costco, you get the P-Touch labeler, the AAA batteries, and a roll of tape to get going on your labeling needs immediately. You can print labels that are up to 2 lines and use tape that is up to 1/2″ wide. The tape used for the labels is laminated so they're really durable. I expect to see everything in my mom's house clearly labeled next time I go to visit. P-Touch kit for $29.99 with a $10 instant manufacturer's rebate for a total of just $19.99! Martha would be so proud.
Everyone loves a good field trip and it was great to check out the deals at the other Costco's and to see what different little things they have. If you're in the Kansas City area you're lucky that you have 4 different locations to try out. So far, I like the Overland Park location the best. Next time I visit I'll have to try the other 2 locations.